Sequel to LINE Bubble Sets Records for Fastest and Most Pre-Registrants in LINE GAME History
Tokyo, Japan – April 23, 2015 – LINE Corporation, owner and operator of the free call and messaging app LINE, has announced the release of "LINE Bubble 2" today, available for free on both iPhone and Android platforms. The new app stands out as the sequel to LINE Bubble, the hit puzzle game with over 36 million downloads worldwide.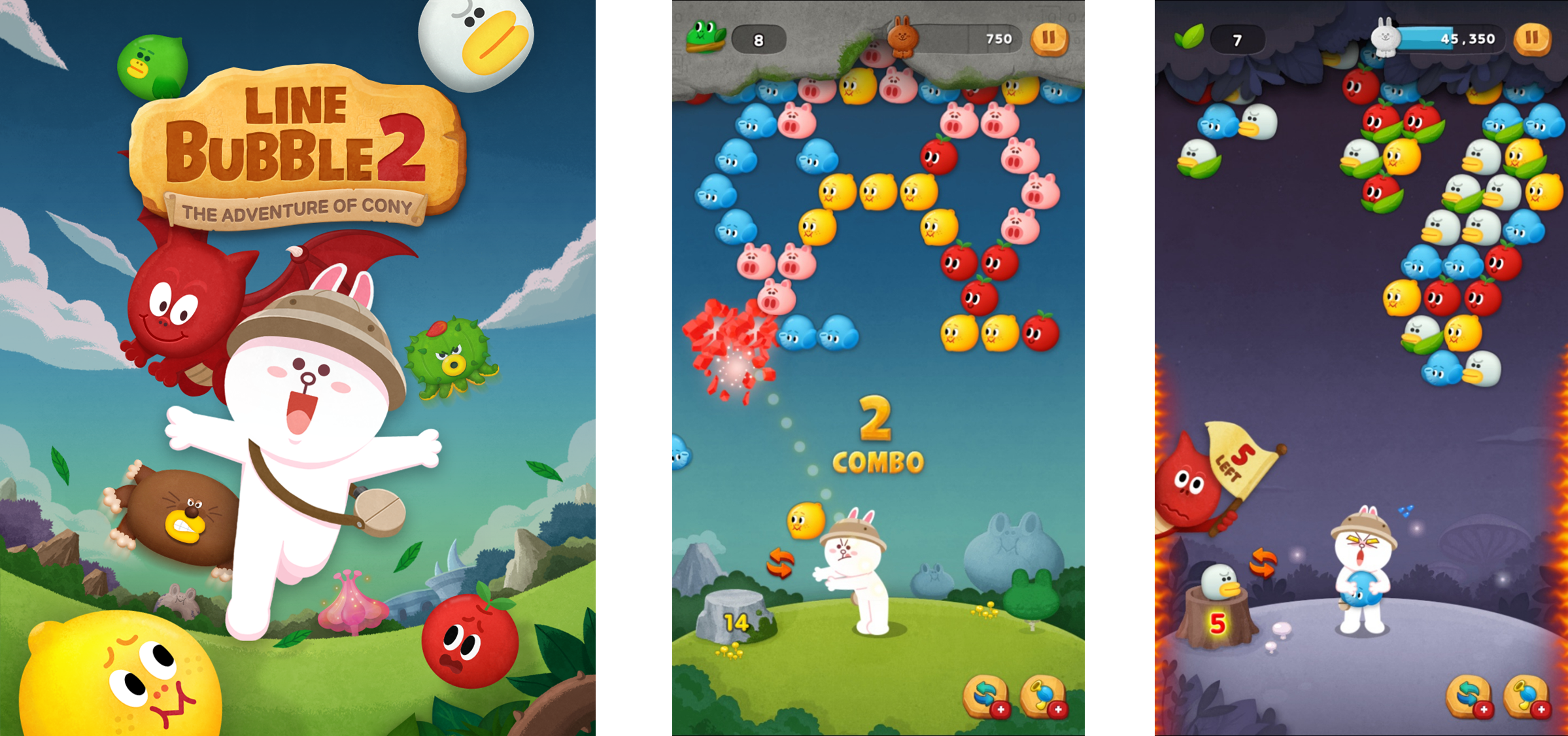 LINE Bubble 2 is a stage-based bubble-shooting game that puts players on a quest alongside Cony and a giant dragon to find the missing Brown. The new app serves as a sequel to the popular puzzle game LINE Bubble, which amassed over 36 million downloads worldwide. Bubble 2 brings a brand new universe to the Bubble franchise, featuring a variety of stage-based levels that promise to appeal to both LINE Bubble fans and new players alike.
A pre-registration event that began on March 30 was held in preparation of the game's release. The event attracted an impressive turnout anchored by current Bubble fans, recording over 1 million participants within 11 days on April 9 and setting new records for the fastest and most pre-registrants in LINE GAME history. By the final day of the event on April 21, over 1.4 million fans had officially registered their excitement and anticipation for the release of Bubble 2.
The new puzzle game puts users in control of Cony who must shoot bubbles to line up three or more of the same pattern to pop them. Players are given missions to complete within a limited number of moves, such as collecting carrots, saving friends, and popping specific bubbles. The game is divided into episodes that range from grassy knolls to desiccated deserts, and each episode comes fully outfitted with 15 stages. In order to advance to the next episode, players must use well-timed bubble attacks to defeat the boss in the final stage of the current episode.
As a reward for clearing stages, players receive statues of Cony based on their score. The statues are categorized by rank into Gold, Silver, and Bronze prizes, with Gold Conys going to players who earn the most points. The game also includes a feature that lets users compete for the highest ranking with their LINE friends. Earning Gold Conys on all the stages in a given area unlocks a special feature that gives players the chance to win a coveted Crystal Cony. Each Crystal Cony is worth two Gold ones, allowing users to jump ahead quickly in the rankings.
A Ruby giveaway is being held to commemorate the launch of Bubble 2.
1. Clear certain stages during the event period to get Rubies (April 23 till May 15, GMT+9)
Players that clear all the stages in Episode 1 will receive 20 Rubies. Players that clear all the stages in Episodes 1 through 5 will receive an additional 50 Rubies as a special gift.
2. Friend Invite Event
Invite 10 friends to play LINE Bubble 2 and get a Flame ticket that allows players access to unlimited gameplay for 30 minutes, invite 30 friends to get 30 Rubies, and invite 50 friends to get Water Play Sally as a special reward.
Promotional Video for LINE Bubble 2
https://www.youtube.com/watch?v=Wy5Nk7Du-i0&feature=youtu.be
LINE Bubble 2
Supported devices: iPhone and Android
Supported languages: Chinese (Traditional), English, Japanese, Korean, Thai
Supported regions: Global
Service begins: April 23, 2015
Cost: Free-to-play (offers in-app purchases)
Developer: LINE Plus Corporation
Operator: LINE Corporation
Copyright: © LINE Plus Corp.
App Store https://itunes.apple.com/app/id895761422
Google Play https://play.google.com/store/apps/details?id=com.linecorp.LGBB2
Android and Google Play are registered trademarks of Google Inc. IPhone, iTunes and App Store are registered trademarks of Apple Inc., registered in the U.S. and other countries. All other trademarks are the property of their respective owners. All information is true and accurate at the time of publication, and subject to change without notice.