LINE Announces "Rabbit LINE Pay" Business Partnership in Thailand between LINE Pay and Offline Payment Platform Rabbit
2016.04.01 Corporate Announcement
Aiming to Build Integrated Offline and Online Payment Platform for a Cashless Society
Tokyo, Japan – April 1, 2016 – LINE Corporation today announced the conclusion of a business partnership agreement in Thailand on March 31 between LINE Biz Plus Limited, provider of the LINE Pay mobile payment platform, and BSS Holdings Co., Ltd., provider of Rabbit smart cards for mass transit systems and offline e-payment at retail in Thailand. BSS Holdings Co., Ltd. is a wholly owned subsidiary of BTS Group Holdings Plc.
As part of this agreement, BSS Holdings will buy enough newly issued shares from LINE Biz Plus Limited to gain 50% ownership in the company. Furthermore, LINE Pay will be renamed "Rabbit LINE Pay" in Thailand as it aims to build the biggest integrated offline and online payment platform in Thailand.
Rabbit LINE Pay Promotional Video (Thai language only): https://www.youtube.com/watch?v=58p74mLYJAc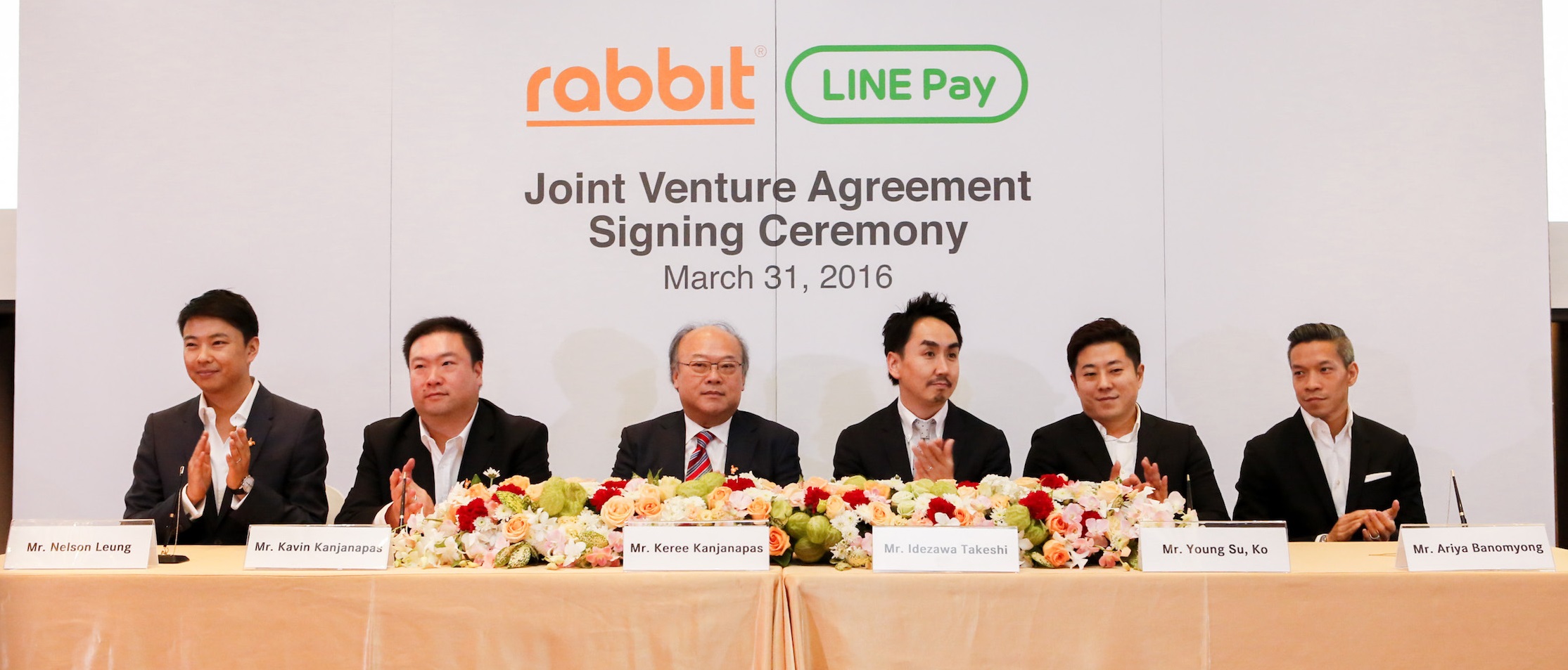 Rabbit is an offline payment platform, providing convenience to both transit customers as well as retail customers. Currently there are over 5 million Rabbit Card holders and over 4,000 Rabbit Card readers, primarily concentrated in the Bangkok Metropolitan Region. Rabbit's membership is supported by the 20 million monthly passengers of the BTS SkyTrain―a figure which is expected to continue growing.
LINE Pay is an innovative and fun mobile payment platform from LINE (via the legal entity LINE Biz Plus Limited) that provides fast, easy and convenient payment on the go. The service continues to build on its early success, with the "Hong Bao" campaign launched in February of this year achieving over 8 million transactions in just a week. In less than a year, the number of registered users has grown to 1.5 million and the number of participating merchants to over 300 nationwide.
Comment from Nelson Leung, Chief Executive Officer of BSS Holdings Co., Ltd.
"This is a landmark deal for Rabbit. Rabbit LINE Pay will become Thailand's first integrated online and offline payment platform and is in a prime position to capture the e-payment market. The convenience of e-payment is irrefutable and Thailand is fast moving towards a cashless society. This deal immediately expands Rabbit's potential reach to LINE's 33 million users and enables access to other regions in Thailand. Through this collaboration between Rabbit and LINE Pay, customers will enjoy seamless convenience for payment solutions across both offline and online merchants. Furthermore, this partnership will strongly support the government's aim to create a 'cashless society' in Thailand."
Comment from Jin Woo Lee, Country Manager of LINE Biz Plus Limited
"Rabbit is a leading payment service with many well-known affiliated offline merchants such as McDonalds, Tesco Lotus and Big C; meanwhile LINE Pay has a strong online merchant base of over 300 merchants nationwide featuring top e-commerce sites in Thailand such as Lazada and Ensogo. Through this business partnership, we believe that a cashless society can be achieved and permeate among Thai users, becoming a major trend in the Thai payment industry. In conjunction with today's announcement, LINE Pay and Rabbit will begin consolidating their distribution channels and business partners. LINE Pay will add new channels for making payments and adding funds, while Rabbit will expand their reach to mobile users via the LINE Pay platform."
Trial service of Rabbit LINE Pay is scheduled to be launched with a small number of key merchants during the third quarter and full service is be launched in the Bangkok area around the fourth quarter of 2016.
Rabbit LINE Pay will work to provide a more convenient payment service for their users with easy, seamless transactions as well as a lot of beneficial reward programs from both LINE Pay and Rabbit's brand partners. Thai users will eventually be able to enjoy an entire day totally cashless, using the Rabbit LINE Pay service to purchase coffee at a coffee shop in the morning, ride the BTS train service or BRT bus service to their workplace, shop online at affiliated shops via LINE GIFTSHOP and transfer money to friends and merchants via LINE Pay.
Rabbit LINE Pay will always strive to develop new features and improve service to provide peace of mind and convenience to Thai users. It also will plan many fun marketing campaigns and keep building relationships with new merchants to provide even more ways to use Rabbit LINE Pay.