Total Sales Topped JPY 150 Million and Sales for Top 10 Stickers Averaged JPY 4.7 Million
61.7% of All Sticker Sets Sold Over JPY 10,000

Tokyo, Japan – June 11, 2014 – LINE Corporation, owner and operator of the free call and messaging app LINE, today announced that LINE Creators Market *1, its platform that allows users to create and sell their own LINE stickers, has released the sales and usage results for the first month since creators' stickers were made available for purchase on May 8, 2014 to June 7.

LINE Creators Market is a platform that lets LINE users from around the world create and sell their own LINE stickers. Once the creator's stickers have passed LINE's review process, they are made available for purchase on LINE Web Store ( https://store.line.me ) and the Sticker Shop inside the LINE app. Approximately 50%*2 of sales generated from sticker purchases is distributed to the creator.


Since opening up the market for registration and sticker submissions on April 17, 2014, LINE Creators Market has welcomed creators from across the globe. The service has registered over 80,000 creators (Figure 1) and 12,000 sticker sets*3 (Figure 2) as of June 7.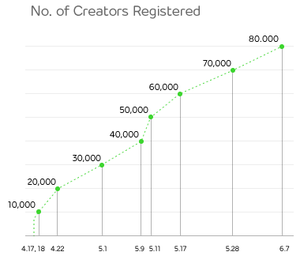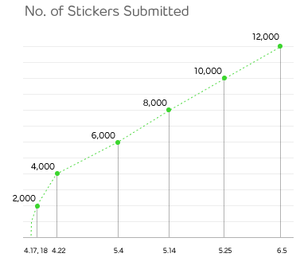 (Figure1) (Figure2)

Stickers that passed the review process have been able to be put on sale and purchased since May 8. For the first month starting from that point and running until June 7, a total of 1,200 sticker sets went on sale, 1.7 million sticker sets were sold in all, and the total sales for the Creators Market reached over JPY 150 million. The average sales for the top selling sticker sets on the market (Figure 3) was JPY4.7 million for the best ten, JPY2.6 million for the best thirty, JPY 1.2 million for the best hundred, and JPY 700,000 for the best two hundred, indicating a large number of users are purchasing these stickers. The sales ratio per set (Figure 4) showed that 61.7% of sticker sets currently available for purchase have topped over JPY 10,000 in sales, proving that users are purchasing and using more than just the top selling stickers.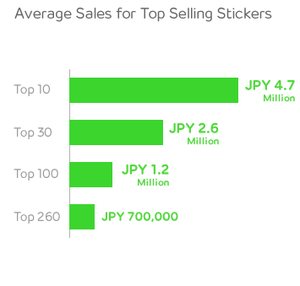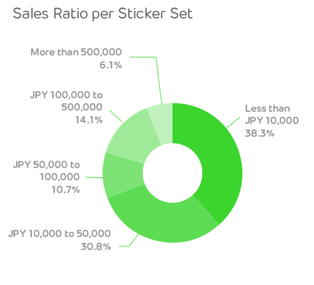 (Figure3) (Figure4)

Users that purchased stickers from LINE Creators Market sent over 81 million messages featuring creators' stickers, allowing the creators' art to be exposed to a large number of users and further expanding opportunities for use as a communication tool.
By expanding the number of countries in which stickers are available for purchase and nurturing an environment that is easy for users to create and sell stickers, LINE Creators Market hopes to offer a richer communication experience than ever through the development and use of a wide variety of stickers.
*1: https://creator.line.me
*2:Withholding tax, transfer fees, and any other applicable fees are deducted from the amount creators are eligible to receive. The tax rate applied varies according to the country of residence of the creator and the purchaser of the stickers.
*3: Figure includes sticker sets currently under and those awaiting review.